What Truly Makes Up a Human?
January 18, 2022
What truly makes up a human?
It may be the way one moves,
flailing, tossing, turning, jumping.
How about the locations one may visit?
The restaurants, the gas stations, the nurseries--
The lakes, the rivers, the mountains that the sun sets behind.
Maybe it's the limbs--
The arms, legs, feet, hands.
Or the organs--
The brain. lungs, kidneys, the heart--
But these are not me.
Maybe it's my family.
My sister, my mother, my father, my grandparents.
Maybe it's the things I relish in--
Favorite movies, trips out of the state, making a mess.
But what truly makes up a human?
It's the emotions and intelligence, is it not?
The sadness, the fury, the carefree spirit--
But let's bring this back to line 10, shall we?
I say my heart and brain do not make up who I am,
But I also declare that emotions and intelligence is truly what a human is.
One may argue that one's emotions come from the heart,
One may prove our intelligence comes from our brain.
But if these do not make up what a human is,
Then what truly makes up a human?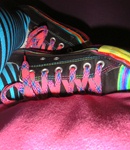 © Melanie R., Milpitas, CA