Dear Vietnam War Veteran
May 29, 2019
I wish I could be with you to hear your story or tell you how your bravery and strength has impacted so many others like myself. Most importantly, I wish I could hug you and welcome you home. From the bottom of my heart, I hope you understand how special it is to be as brave as you were to risk everything and leave your life behind for your country.

My name is MacKenzie, I'm 17 years old and a junior in high school. For as long as I can remember I've had an interest in learning about the wars we've fought, and about the people who fought them. I'm writing to you because I've always wanted the opportunity to write to a veteran to let you know the amount of gratitude I have for you and that I would be so grateful to hear your story. My cousin has been serving for the past 8 or so years and has been an inspiration to me, although I don't know what she has been going through, I would love to be able to somewhat understand from yours.

I not only thank you, but I appreciate you and every other soldier (or friend of yours) that fought in the Vietnam war. It is tough to find people like you in this world that would be able to hold their head high for the battles they've fought that went severely unappreciated. I hope a late welcome home would still suffice for the one you had never gotten that you deserved. Also that since you've come home, you've gotten everything life has to offer. A life full of beautiful memories to many other welcome homes from grateful Americans.

I sincerely wish that this letter can serve for the amount of gratitude I have for the impact you and other Vietnam veterans have had on many. I can only dream that someday I will be able to make an impact on someone's life like you have with mine. You have made me realize I can make it through life's hardships with courage and dignity. You are my hero.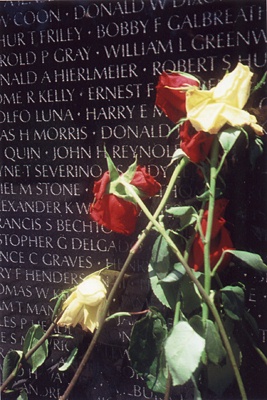 © Justin R., Angola, IN